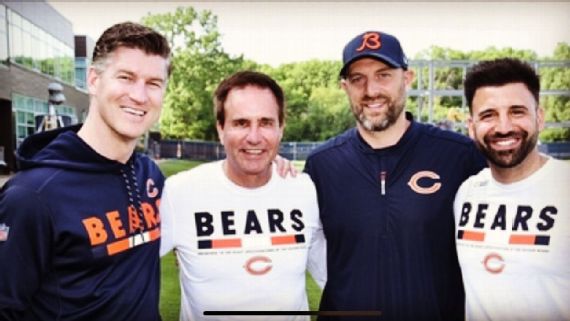 From Selling Homes to the NFL: How an 'Angel' Helped Matt Nagy
Photo courtesy of Larry Wisdom, via espn.com
Article by Wayne Drehs, via ESPN
LAKE FOREST, Ill. — As he strolled into the tiny, dimly lit, all-brick restaurant 10 years ago, Matt Nagy had one goal: to put football in his past. But little did he know his three-hour dinner meeting would circuitously lead to the exact opposite. And the stranger he was about to meet he would one day refer to as his "angel." And it would all happen against the longest of odds.
"That word 'angel' is more than a little humbling," says Larry Wisdom, the man at the other end of the table that night in Lancaster, Pennsylvania. "It's embarrassing. I had no intention of hiring him. Ten percent chance? Maybe? And that's being generous. There's no rewriting history here."
Instead, there is the unlikely tale of a man who was unemployed, out of football and desperately seeking a job in new home sales becoming the driving force behind the resurrection of one of the NFL's most storied franchises. In two seasons with the Chicago Bears, former coach Marc Trestman won 13 games. In three years John Fox won 14 games. Matt Nagy has won 12 games and an NFC North championship in his first year. And the season isn't over.
Continue reading here.
angel
,
bears
,
championship
,
chicago
,
coach
,
football
,
franchise
,
head coach
,
inspiring
,
lake forest
,
matt nagy
,
nfc
,
nfc north
,
NFL
,
story
,
super bowl