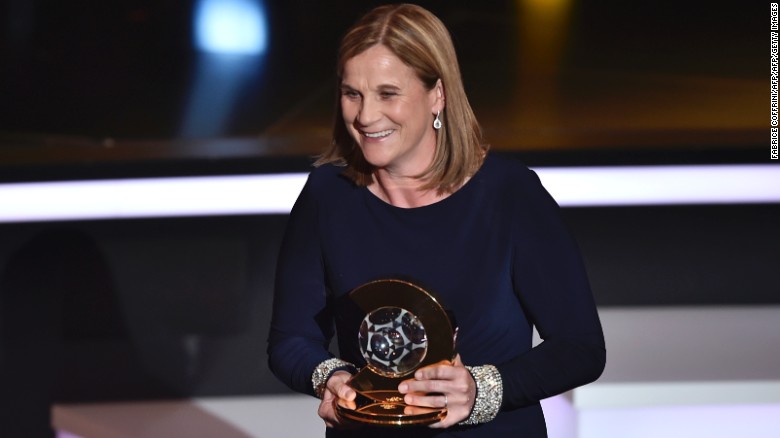 Jill Ellis: The shy girl from England who became US Soccer's record-breaking head coach
Photo by FABRICE COFFRINI (©GETTY IMAGES)
Article by Aimee Lewis, via Metro News
Lyon, France (CNN)A few hours before Sunday's Women's World Cup final, John Ellis will seat himself at his organ and play "You'll Never Walk Alone," Liverpool Football Club's stirring anthem. A Royal Marine commando who became a football coach, the 80-year-old is no vocalist, but nevertheless he will warmly sing the words and glance at a framed photograph of his daughter, Jill. It is a ritual the Englishman goes through every time the United States plays.
The picture John Ellis has above his organ is one taken during a jubilant time for the family and its adopted country, when Jill guided the United States to World Cup victory in 2015. There may be another photo to be put above the instrument Jill bought her father some years ago when he decided to learn to play because the USWNT head coach is a match away from retaining the title and making history.
"That song says it all," he tells CNN Sport over the phone from his Florida retirement home.
"When you're the head coach, you're the one on the line and that's why I sing that song to her, so she knows her mum, her dad, her brother are always here for her. I know it sounds stupid, but that's what I do.
"When you see your daughter out there, and the expectation and the pressure on her … America is a wonderful country to live in, but don't lose. You've got to get it done."
Should the US triumph over the Netherlands in Lyon Sunday, the 52-year-old, described by her father as a strong but gentle soul, will become the first coach to win the biggest prize in women's football twice. In the history of the game, Vittorio Pozzo is the only coach to win two World Cup titles, leading Italy to victory in 1934 and 1938.
Her record is phenomenal: In 126 games as US head coach, she has won 101 and lost just seven. She has never lost a World Cup match. But like most of sport's elite coaches, Ellis divides opinion.
Her team has yet to lose a match in France; it recorded the biggest win in World Cup history by trouncing Thailand 13-0, and emerged from the group stages with a goal difference no team in the competition's history has achieved.
The USWNT has beaten an emerging force in Spain, and the No.3 and No. 4 team in the world in England and France respectively. Yet Ellis has still been criticized: for her substitutions, for being too defensive, for being too adventurous, for not being a true leader.
"When you take these big jobs, you understand that you have to be able to deal with that side of it," says her father, himself a former USWNT assistant coach. "Reading the newspapers, some people just don't like her, but the ironic thing is they don't know her."
Continue reading here.