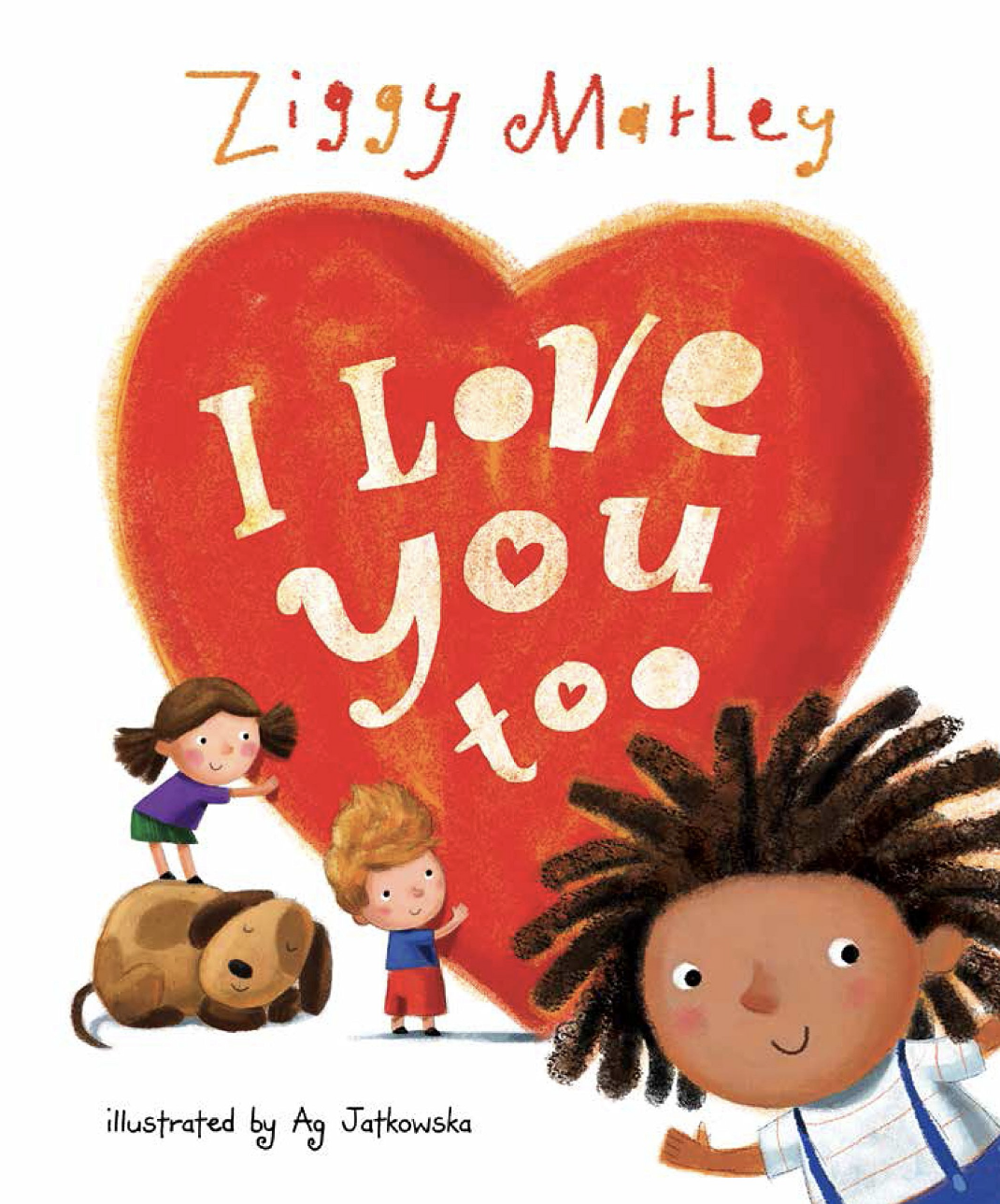 I Love You Too (2013)
A beautifully illustrated, multicultural children's picture book based on one of Ziggy Marley's most beloved songs, "I Love You Too." The book explores a child's relationship with parents, nature, and the unstoppable force of love. This is Ziggy's first book, though his foray into children's music is extensive and very well known. He is the singer of "Believe in Yourself," the popular theme song of the hit TV show, Arthur.
Marley has been a long-time fixture in the children's entertainment arena. In 2004, he played the role of Ernie, the mischievous jellyfish in the Dreamworks animated smash, Shark Tale, and has made appearances on multiple family and children's shows including Sesame Street, Dora the Explorer, the 2009 "Macy's Thanksgiving Day Parade," and A Family Is a Family Is a Family: A Rosie O'Donnell Celebration on HBO. In 2009, Ziggy, along with his wife, children, and mother Rita Marley, joined President Barack Obama for the 131st annual White House Easter Egg Roll celebration. More recently, he has crafted the theme song for HBO's Saving My Tomorrow, is featured in the GRAMMY Museum / Cal Science Center's Exhibit "Saving the Earth with Music" and lent his voice to the PupStar franchise. Marley is also an honorary member of the board of directors for Little Kids Rock, an organization that provides free musical instruments and free lessons to children in public schools throughout the United States.
From the introduction to I Love You Too by Ziggy Marley: "One day I was in my kitchen making breakfast with my then three-year-old daughter Judah. She looked at me and said, 'I love you.' I spontaneously replied to her, 'I love you too.' From that came the song and now the book based on the lyrics. I hope you share and enjoy this with your loved ones as I have with mine. I love you too."
A coproduction of Akashic Books and Tuff Gong Worldwide
"Sure to be a hit at bedtime, the lyrical story conveys the sweet, soothing, and affirming message."
—School Library Journal
"This looks to be on our home charts for weeks, months, maybe even years."
—Austin Chronicle
"An inspiring storybook edition of the lyrics of famous reggae performer Ziggy Marley…song lyrics are surrounded and set in warm, vivid illustrations of children of many hues, laughing and playing with loving parents and grandparents in a healthy, light, balanced natural world."
—Midwest Book Review
"The illustrations are simply stunning…But even more than the gorgeous illustrations is the wonderful message that this book conveys–that families and friends will always love each other."
—The Mama Games
Videos
Amazon Book Store
Amazon Kindle
Barnes & Noble
Official Store
Mobile App
Available on iTunes
Available on Android PlayStore
The story of "I Love You Too" was adapted into an interactive app which is now available on the App Store and Android markets.
Narrated by Ziggy Marley himself, the "I Love You Too" app takes the message of the story one step further by providing a record and share option which enables parents and children to record their own voices reading the book. "Our girls recorded a version of "I Love You Too" for their grandparents who live almost 3,000 miles away," said Michel Kripalani, president and CEO of Oceanhouse Media. "Not only did the girls have a blast creating the recording, but we also captured a tender moment that we can all cherish for a lifetime." Additionally, the app contains a sing-along mode where children can follow highlighted lyrics karaoke-style with Ziggy Marley's song. Other features include tappable words and pictures, fun animations, parental controls and much more!
"Working with Ziggy Marley to adapt 'I Love You Too' as a mobile app has been an incredible experience," said Kripalani. "Taking this story of a parent's love and providing an easy way to save and share memories is a true honor."