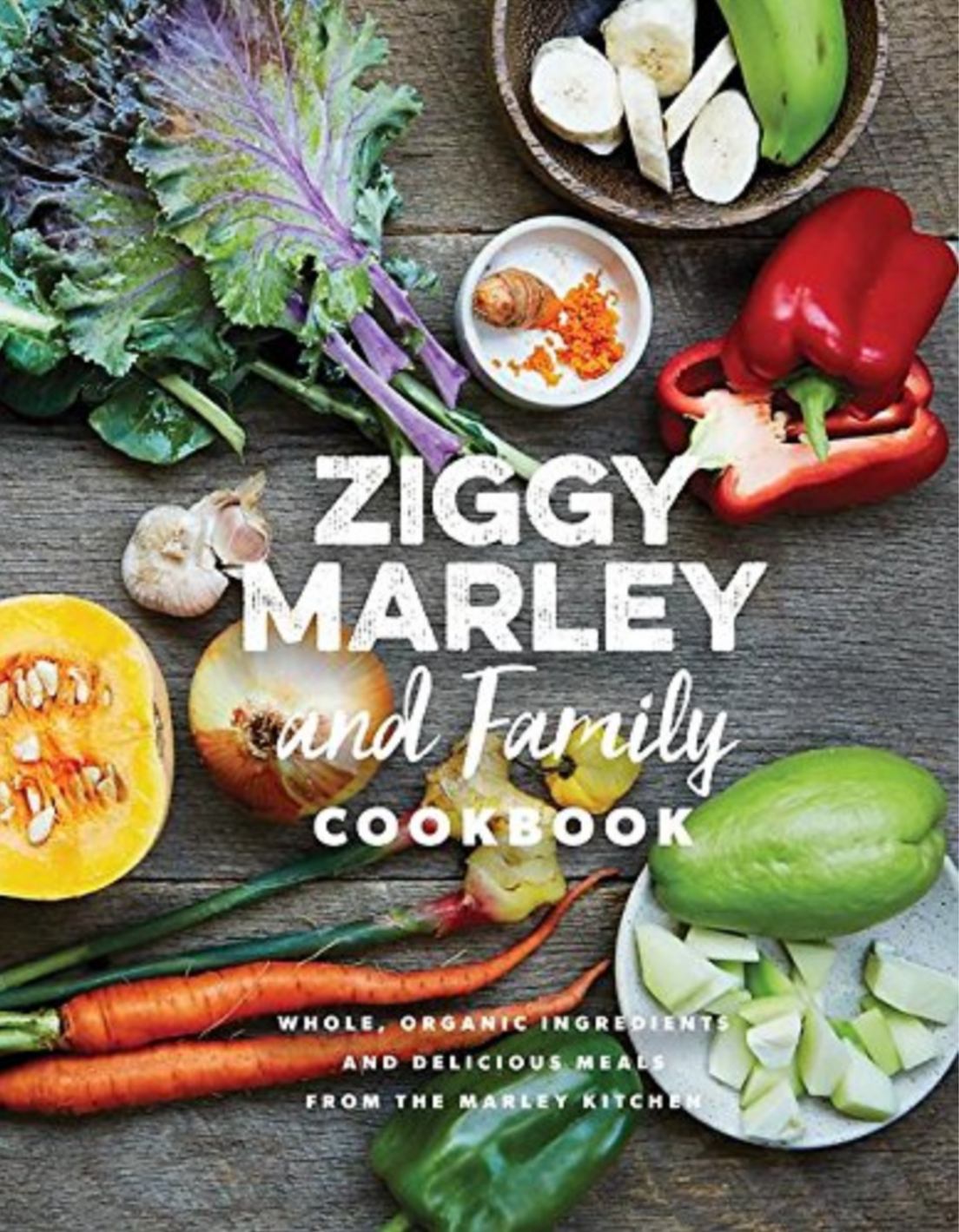 Ziggy Marley & Family Cookbook
Seven-time Grammy winner, author, philanthropist, and reggae icon Ziggy Marley releases his first cookbook titled Ziggy Marley and Family Cookbook: Delicious Meals Made with Whole, Organic Ingredients from the Marley Kitchen on October 11th through Akashic Books. Inspired by the Jamaican meals Ziggy enjoyed while growing up – with an updated healthy spin – the cookbook features a variety of contributions from family members, including Ziggy's wife Orly, sister Karen and daughter Judah.
The cookbook also draws inspiration from Ziggy Marley Organics, Ziggy's own line of hempseeds and flavored coconut oils, which he launched in 2013. It was the positive response to Ziggy Marley Organics that eventually planted the seed for Ziggy to release a cookbook based on the foods of his life. Many of the recipes are vegetarian, vegan and/or gluten-free, from delicious and savory egg dishes, to healthy, nourishing juices, soups, and salads, to classic Jerk Chicken and fish recipes. Ziggy Marley and Family Cookbook brings new organic and nutritious recipes to kitchens around the world, intended to promote healthy living with a touch of culture, comfort, and love.
Press
Ziggy rolls up his sleeves to produce Vegetarian Hash, dumplings, Jerk Chicken, Tofu in Coconut Curry, Fish Soup, Caribbean Salsa, Hempseed Pesto, Date and Kale Smoothie, Frittata, Mancakes, Mama Carmelita's flan and even offers the best recipe for baking Stout Gingerbread. Simply explained, gluten-free, organic fruits and vegetables combine to make healthy, vegetarian, vegan and non-vegetarian meals."
–The New York Beacon
The book features updated versions of favorite Jamaican and Rastafarian-inspired meals from those closest to him. Along with Marley's own creations, like the sublime Coconut Dream Fish and aforementioned Mancakes, recipes include his wife Orly's morning oatmeal, his sister Karen's lentil soup, recipes from his daughter Judah and mother-in-law, fresh juices like those his father enjoyed and contributions from several renowned chefs."
–Parade
Filled with enticing photos, the book includes the recipes of Marley and those close to him, including sister Karen and daughter Judah. It's a celebration of food and family. Containing meat and fish dishes, as well as vegan and vegetarian creations, it draws not only from the Jamaican and Rastafarian cultures that nurtured Marley, but also his wife Orly's Israeli-Iranian roots."
–The Mercury News
Ziggy's cookbook is designed to nourish the body, mind, and soul."
–Food & Wine
Videos