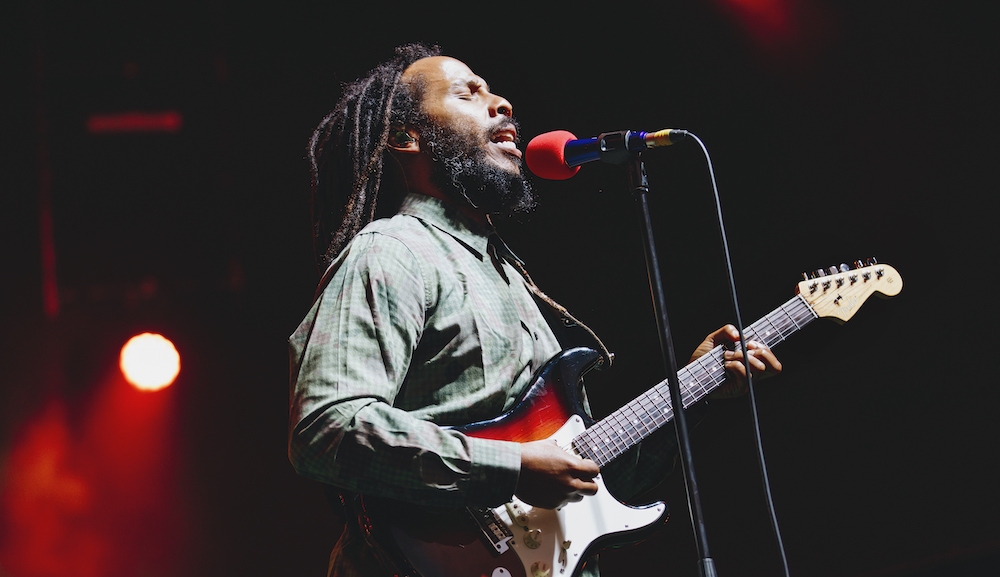 Ziggy Marley: "Revolutionary changes will be brought about by the growing generation"
Article by B. Zetas Peter via Contextus.
"According to Ziggy Marley, the growing new generation is changing the world. You have to rebel against lies, show true values, "said the Jamaican musician to MTI, the late reggae king, Bob Marley's eldest son, and giving a concert in Budapest Park next Tuesday.
Ziggy Marley, 50, had a taste of the rock music scene with her kids, was on her father's record at the age of ten, and toured with her. At the age of eleven was founded by three brothers, Sharon, Stephen Cedellával and the Melody Makers , which is Bob Marley nice pitch came in and worked until 2001, after his death in 1981.
Melody Makers has been awarded three Grammy awards so far as three solo performers. Her latest album, Rebellion Rises , released last year and nominated for a Grammy, has been hailed by the press. The reggae album is musically energetic, pulsating, and the lyrics are about the need for change in the world, and people need to realize what's really important.
If you want to rebel against the bad things in the world, start by reflecting on yourself. One of the songs on the record, See Dem Fake Leaders, is about a flood of lies we hear from politicians around the world. Otherwise, sincere people are needed and revolutionary changes will be brought about by the now-growing generation
Said Ziggy Marley , who gave a telephone interview from England.
"Don't expect things to go different if we do nothing for ourselves. It will take many, many years, but we need to get to it as soon as we have a chance, "he added.
In a reggae clip for his song " World Revolution ," he sings with his four teenage children Judah, Gideon, Abraham and Isaiah – and rapper SamuiLL Kalonji – that people need peace and love, "sweet revolution" instead of hate and war .
According to Ziggy Marley , Bob Marley's thoughts are still valid in the world today and if he were alive he would say the same as he once did. "We live in a common world that no one can master. Everyone must walk their own path, in peace, in love, and respect the other. "
On the suggestion of his favorite Bob Marley record, he mentioned Survival recorded in 1979 with Wailers .
Not just because I could see and hear as a kid how it was made. I still am impressed by this album, which focuses on the African roots of Jamaicans, the unification of the peoples of the continent, the courage
– He told.
Marley began her European tour this week after her US concerts and will be coming to Hungary after the British stations (Cornwall, Malmesbury, Chester): she will play Budapest for the first time in the capital on July 30th. (She performed at VeszprémFest last year.)
"I have no prior expectations for one show. I hope I can find a common voice with the Budapest audience and everyone will be liberated, "he said. In his concerts he always plays Bob Marley songs on his own concerts (such as " One Love ", " Get Up" , " Stand Up " and " Jamming " on his current tour ), but his former family band Melody Makers (including Justice and the Look Who's Dancing ) also turn up.
Although I do not plan, I do not rule out having a concert with my brothers. As a family we are very cohesive, but for music we have been on separate paths for a long time, which is fine
Ziggy said.
Ziggy has a total of ten siblings from different mothers. Like her father, she has seven children, including 30-year-old Bambaata herself a reggae singer.
Alongside music (he owns a publishing company), Marley is extremely active: working on his father's biography, previously producing a comic book and animated web series called Marijuanaman , publishing his family cookbook and children's book, and participating in numerous charity initiatives for children.
"I've always strived to be creative beyond music," Marley emphasized.
Read the full article here.