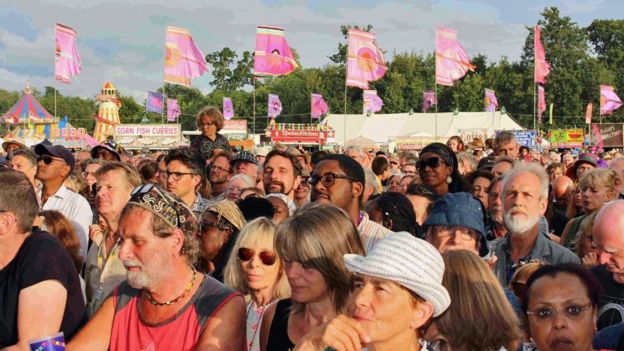 Could music festivals be good for your health?
Article by Martin Vennard via BBC News.
Millions of people around the world go to music festivals each year. At one time, they were seen as encouraging heavy drinking and drug-taking while providing poor facilities and bad food. But now organisers are more focused on festival-goers' wellbeing.
"The music is great, it's educational and it's therapy," says Marta Pibernat, from Catalonia in Spain.
"But we do end up drinking more than we should," admits her friend, Patricia Torne, who is also from Catalonia, but lives in the UK.
It is Friday morning and we are in a field in rural Wiltshire, in southwest England, where the two women and several hundred other people have just taken part in a 90-minute yoga workshop.
We are at the Womad world music festival, where performers such as Macy Gray, reggae star Ziggy Marley and Malian singer Salif Keita are performing over the four-day event to a total of 39,000 people.
Continue reading here.