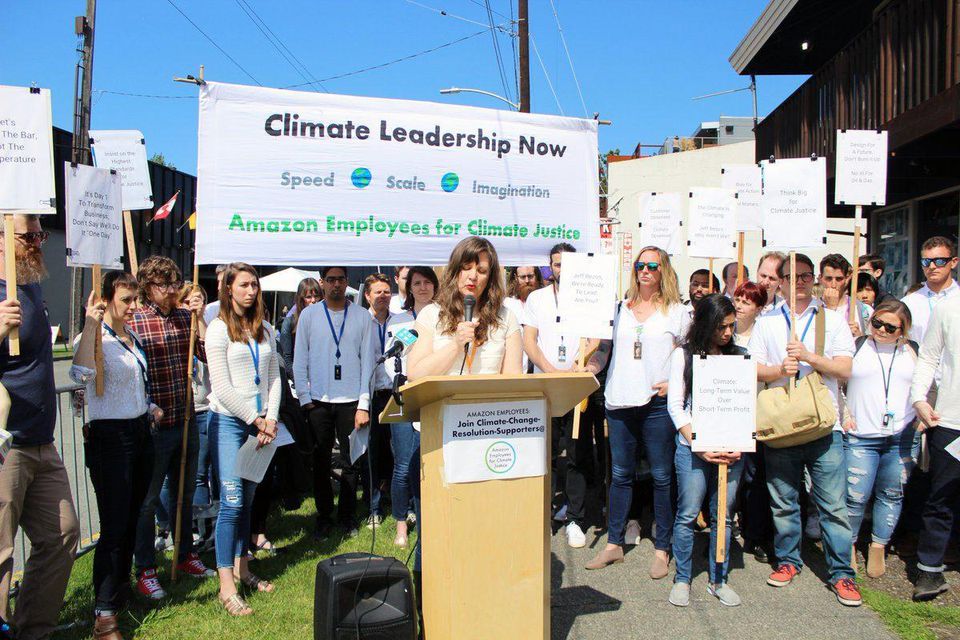 Meet The Amazon Employees Challenging Jeff Bezos On Climate Change
Photo by AMAZON EMPLOYEES FOR CLIMATE JUSTICE
Article via forbes.com
An open letter from these employees called for CEO Jeff Bezos and Amazon's Board of Directors to adopt a climate plan shareholder resolution that included setting goals for emission reductions, moving away from fossil fuels and prioritizing climate change in future business decisions. In the letter, employees argue that the Shipment Zero plan has limited impact on pollution:
"Shipment Zero only commits to net carbon reductions, which allows us to continue to pollute; we recently ordered 20,000 diesel vans whose emissions will need to be offset with carbon credits. Offsets can entail forest management policies that displace Indigenous communities, and they do nothing to reduce our diesel pollution which disproportionately harms communities of color."
Employees also want Amazon to transition to 100% renewable energy across the entire company. In its own statement, Amazon outlined its sustainability initiatives: "Amazon's sustainability team is using a science-based approach to develop data and strategies to ensure a rigorous approach to our sustainability work. We have a long term commitment to powering our global infrastructure using 100% renewable energy." However, critics point out that no deadline has been set for the goal, rendering it meaningless.

Continue reading here.