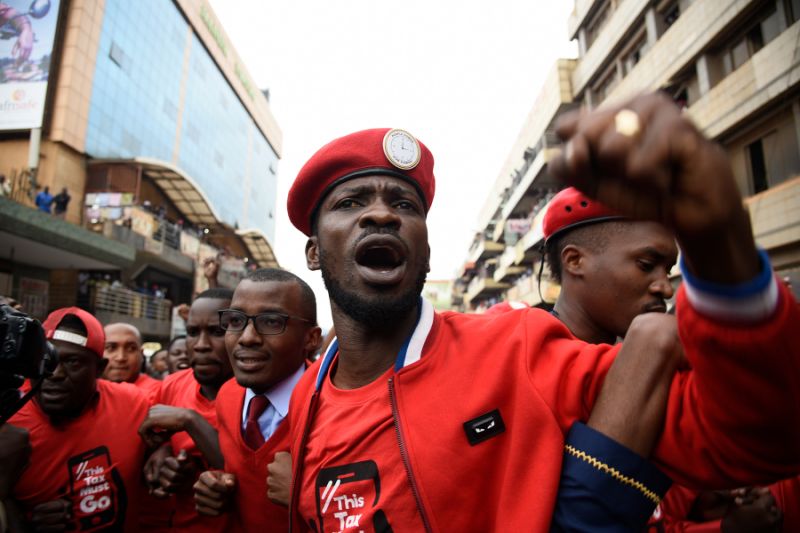 Uganda's 'Ghetto President': How Bobi Wine Went from Dancehall Grooves to Revolutionary Politics
Photo by Isaac Kasamani via AFP/Getty Images
Article by David Peisner, Rolling Stone
When Bobi Wine was 26, he bought a brand-new Cadillac Escalade with spinning 24-inch rims. He was already a major star in Uganda, and the car, he says, was the first Escalade sold in all of East Africa. Wine's music is a sunny blend of Jamaican dancehall and a local Afrobeat style called kidandali, but his persona back then was pure hip-hop. Local media reveled in tales of his trysts with various women and beefs with fellow stars.
The man, Wine says, was a soldier who worked with Uganda's head of military intelligence. In other words, well-connected and accountable to almost no one. At the time, Wine's music leaned on party songs, love ballads, and braggadocio. He occasionally wrote about Uganda's entrenched problems — poverty, sanitation, the AIDS epidemic — but generally turned a blind eye to the system enabling them. After all, he was thriving in it.
Initially, Wine was aggrieved by this beatdown. But he was friends with generals, with businessmen, with politicians. He'd seen them inflict similar wrongs on others while he'd stood by and done nothing. The more he reflected on it, maybe he deserved it.
The incident redirected Wine onto the path where he stands now, at 38, a politician challenging the kind of injustice and impunity that slapped him in the face 12 years earlier. Wine, who was born Robert Kyagulanyi Ssentamu, won a seat in Uganda's Parliament in 2017. Last year, he announced he'd run against the country's 75-year-old autocrat Yoweri Museveni in early 2021 to become Uganda's next president.
Continue reading here.