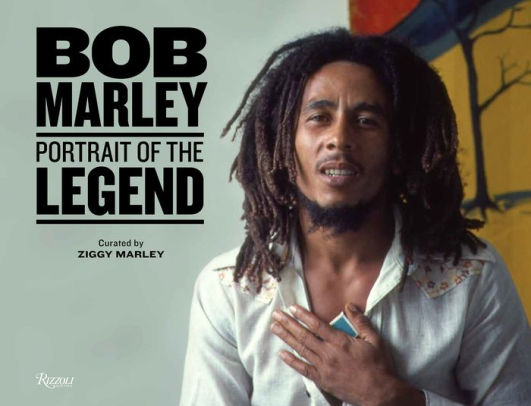 'Bob Marley: Portrait of the Legend' photo book out now!
Written by Ziggy Marley in honor of his father's seventy-fifth birthday, Bob Marley: Portrait of the Legend collects more than 150 photographs that celebrate the life and influence of the forefather of reggae and one of the greatest musical and sociopolitical icons of twentieth-century pop culture.
Drawing exclusively on photos in the Marley family archives, the book mixes the iconic and the intimate, bringing together striking images of Marley as a performer onstage with unseen glimpses into his creative process in and out of the studio and his family life in Jamaica. Making the most of its oversize pages, the book is designed as a monument to his influence.
Focusing on the last decade of his life–the period of his greatest worldwide fame–and with excerpts from unpublished interviews and prophetic quotes alongside the images, this is a definitive portrait of one of the great artists of the twentieth century made by those who knew him best.
You can buy a copy of the book here
Reviews
"Filled with photographs from the Marley family archives, the oversize Bob Marley: Portrait of the Legend has been put together by son Ziggy to honor what would be the reggae legend's 75th birthday." — MOSAIC MAGAZINE
"In honor of what would've been Bob Marley's 75th birthday, this oversize book collects more than 150 photographs that celebrate the life and influence of the forefather of reggae and one of the major musical and sociopolitical influencers of 20th-century pop culture. Drawing exclusively on photos in the Marley family archives, the book mixes the familiar and the intimate, bringing together striking images of Marley as a performer onstage with unseen glimpses into his creative process in and out of the studio and his family life in Jamaica." — PUBLISHERS WEEKLY