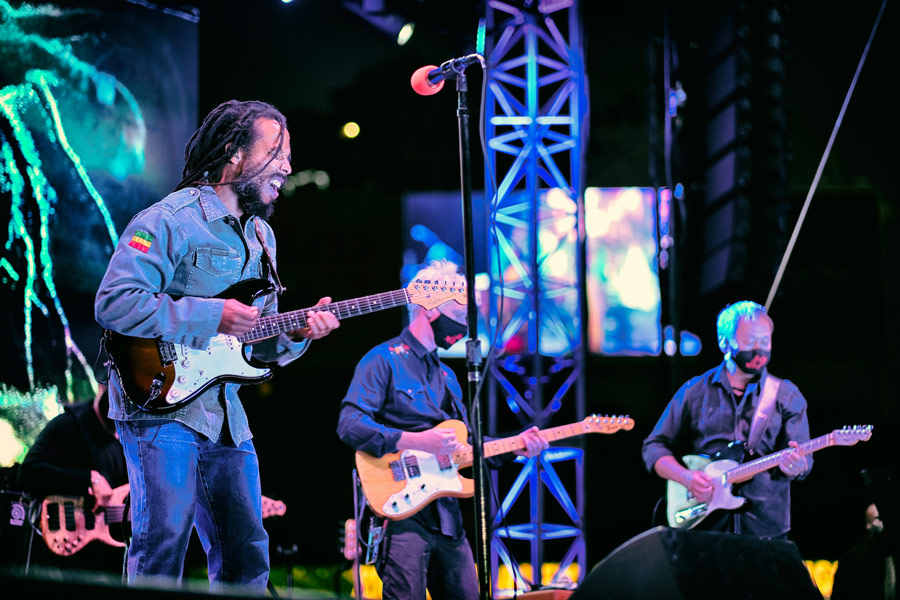 Beach Boys and Ziggy Marley play back-to-back Petco Park shows: 'Good Vibrations' meet 'Rastaman Vibration'
Photo by Zach Weinberg, courtesy of Tuff Gong Worldwide
Article by George Varge, San Diego Union Tribute
In any decade, the Beach Boys' best songs are classics of their time. Many of them are custom-made for a nostalgic trek back to a bygone era when striped shirts, hot rods and "two girls for every boy" were the order of the day.
As such, they stood in marked contrast to the 16 classics Ziggy Marley and his band performed Sunday — nearly all from the 1970s — which still sound so fresh and vital that they have handily transcended their time.
And when he essayed such gems from the first half of the 1970s as "Get Up, Stand Up" and "Them Belly Full (But We Hungry)," their messages of the quest for universal compassion and equality sounded as timely as ever. Their musical durability, which was enhanced by a well-balanced sound mix, is a testament to their melodic and rhythmic appeal, and to just how well-constructed they remain.
Continue reading here.
bob marley
,
concert
,
concert review
,
diego
,
live
,
malrey
,
marely
,
marley
,
music
,
padres
,
petco park
,
reggae
,
review
,
san diego
,
show
,
tribute
,
union
,
ziggie
,
ziggy
,
ziggy marley