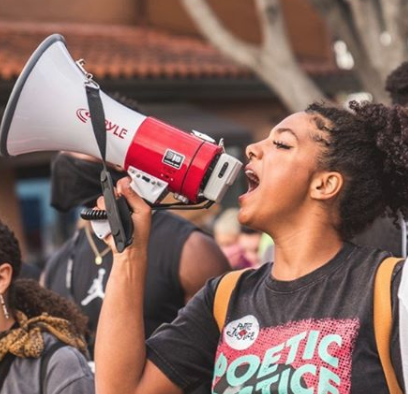 Tianna Arata, a BLM Organizer, Is Facing 15 Years in Prison for Protesting. Here's How You Can Help Her.
Photo from Instagram (via Cosmopolitan)
Article by Starr Bowenbank, Cosmopolitan
The Black Lives Matter movement is still going strong, but one of its champions is facing a slew of harsh legal charges: 20-year-old Tianna Arata, who was arrested after a protest in California, is now facing criminal charges that could land her in prison for up to 15 years. There has been renewed interest in Arata's case after #FREETIANNA started trending on Twitter over the weekend and details emerged about what happened that raise serious questions.
Here's what happened: On July 21, Arata was arrested by officers from California's San Luis Obispo Police Department (SLOPD) after a protest she organized ended with vandalism. Documentation from the SLOPD says Arata was contacted before the protest to ensure it would remain peaceful. Authorities say a car window was damaged and glass rained on a 4-year-old in the back seat, but local outlets claim there's more to it. According to the local paper The Tribune, motorists were driving into protestors.
After attendees began to leave, a group of police targeted Arata and arrested her, and it was caught on video.
Continue reading here.